Webfire's Firestorm Video Creation Tool
Can you make professional videos quickly and simply?
Videos are now considered to be a key element in helping your web site to rank higher in search engines.  For this very reason Webfire's Firestom video creation tool is a very powerful "must have" product.  People, companies and even governments are now using this video to either promote their product or organization.  In the field of internet marketing it's no different.  Videos are recognized as precious gems.
But is there a software program where you can make a professional video simply and quickly?  And better still it's automated for ease of use.  Fortunately for us the Firestorm tool is one of the best items in the Webfire suite of programs. This specific tool removes the usual difficulties that most internet marketers encounter when they are faced with producing a video.  Particularly if you have never produced a video before and you are caught up in the thoughts of a big production with all its complications.  Firestorm video tool enables website developers generate videos from a written article or script. Transforming an article into a video is not impossible because the Firestorm tool automates much of this process for you. A small quantity of time, little imagination and clever ideas can produce the valuable video for you to promote your business.
Currently Firestorm allows you also to import an existing video into your new production as well.  Webfire is committed to continual improvement of their product and soon using laptops and other computers with built-in cameras you will be able make a video recording directly from your computer using its camera to capture and record you or your presenter or other subject.
Driving traffic to your website is not only a matter of managing your onsite SEO.  Videos and other elements are key parts in the whole search engine ranking in the exercise too.   Adding a video is one of the most powerful weapons you have in your arsenal website ranking elements. This video creation tool is phenomenal because it not only turns a piece of writing into a video but it will also submit it to a variety of video sites for you as well.
At the commencement of you production you may use another of their interesting features. With Firestorm you have the ability to choose your backgrounds to your presentation video. The tool then goes on to create Power Point-like slides with your chosen background as well as allowing you to choose your preferred audio style and presentation voice.
In addition to the capabilities of this tool, explained above, Webfire have provided you with a video demonstrating just how to use the tool.  As well as the production team have given further written tuition which you can find on the software site.  This is of great help in learning how to independently create a video in the shortest time possible and without having to bust your marketing budget. With Firestorm there is also no limit as to how many videos you can make. You are also now more empowered and will need less help from video professionals.
This tool gives you the freedom for you to incorporate your goals and prospects into the video the way you want it to be done.  After all it is your product or organization and who knows it better than you do?  More than that it saves you time as well and time is money.
You cannot afford to let this one go by. To run a truly successful web campaign you have to invest in both SEO and internet marketing tools or you will fail. Using Webfire software's Firestorm video creation tool along with their other tools is the road to success. Click here to find out more about Webfire http://web-development-tools.com/webfire/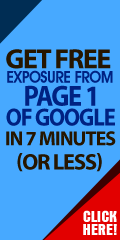 This banner contains my affiliate link.